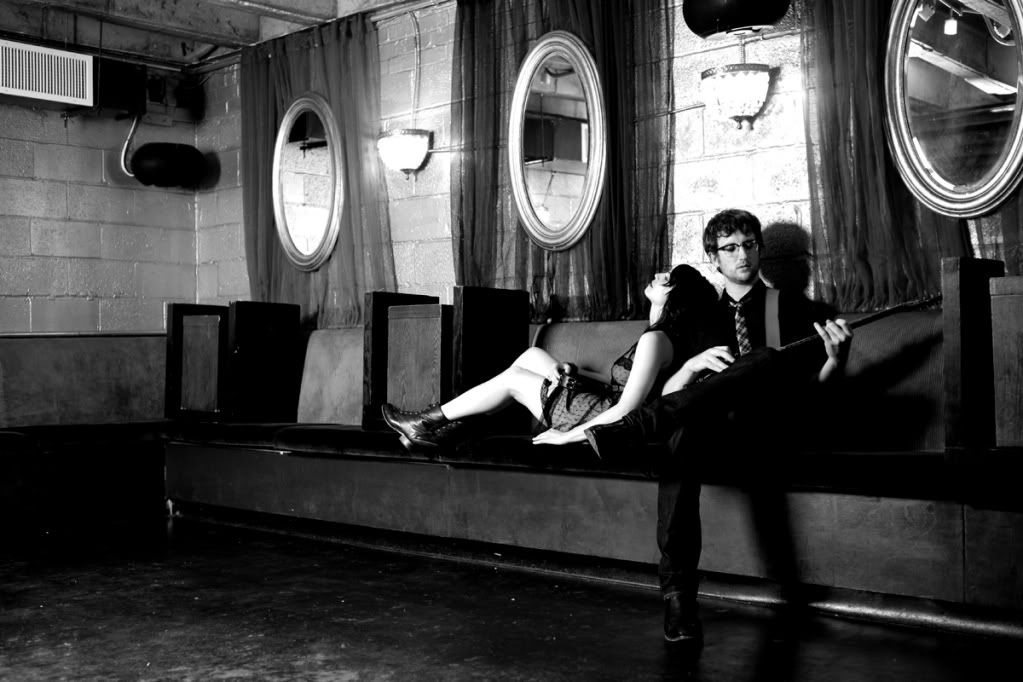 Lenorable matches the best elements of post-punk and goth with the sonic depth of shoegaze, coldwave and electronic music. Using synthesizers and drum loops with live guitars and vocals, Lenorable explores dark themes and powerful sounds.
For booking or other queries: lenorablemusic[at]gmail.com
The band formed in 2010 after guitarist Ian Graham asked Lisa Reed to help him write some lyrics for a solo project. The collaboration resulted in a few goofy punk songs about space and dinosaurs. Ian convinced Lisa she should be singing her lyrics, and the duo became Lenorable.
Since that summer, Lenorable has focused on darker themes. Their song "Metamorphosis," based on Kafka's story, was featured in Washington City Paper's "One Track Mind" column. That song was also featured on "Rock Back: Animal Rescue vol. 1," a compilation to benefit animal rescue groups working in Japan after the 2011 tsunami released by Patetico Recordings.
They've been playing regularly in the DC area, including headlining shows at Black Cat, playing in the inaugural Sweet Tea Pumpkin Pie festival and performing on Brandon Wetherbee's "You, Me, Them, Everybody!" talk show/podcast.
On February 28, 2012, Lenorable independently released a limited edition clear 7" record featuring songs based on Edgar Allan Poe stories. The EP was recorded at Inner Ear Studios by Justin Moyer (Edie Sedgwick, America Hearts). The album was funded entirely by Lenorable's fans through Kickstarter.
In March 2012, Edie Sedgwick released the "Heat Wave" white label on Mud Memory Records and Dischord Records, which included a Lenorable remix.
The "Disconnect" EP, to be released in June 2013, reaches further into the void, touching on darker and heavier themes than the band's previous work. It also features remixes by DENMAN and Pleasure Curses.
What does 2013 hold? Expanded touring and new releases? Indeed.
For booking or other queries: lenorablemusic[at]gmail.com